Deze vaartocht is speciaal ontwikkeld voor de 1,5 meter samenleving. Rederij van Hulst heeft haar schepen ingericht op een 1,5 meter samenleving en passende voorzorgsmaatregelen getroffen. Op die wijze voldoen wij aan de gesteld voorwaarde van het RIVM.

Nadat het inschepen is voltooid, gaan de trossen los voor een prachtige vaartocht door het Groene Hart. Dit is Holland ten voeten uit: polders, koeien, molens, meren, prachtige vergezichten en mooie Hollandse dorpen. Het Groene Hart is een nationaal landschap. De verschillende gebieden binnen het Groene Hart van Holland hebben hun eigen karakter en uitstraling. Ieder gebied is uniek qua ligging, landschap en cultuurhistorie. Samen maken zij het Groene Hart van Holland een bijzonder landschap.

Gedurende de vaart passeren wij steden en dorpen zoals: Leiden, Zoeterwoude, Oudekerk aan de Rijn, Alphen aan den Rijn, Oude Wetering en Kaageiland. De kapitein informeert u gedurende vaart over alle bezienswaardigheden en bij mooi weer geniet u uiteraard ook aan 't dek alwaar u een weids uitzicht heeft over de omgeving. Onze medewerkers staan op verantwoorde wijze voor u klaar als het gaat om een drankje een snack of een eenvoudige lunch

Vaar met ons mee en beleef, op verantwoorde wijze, de strijd tegen het water die de Hollanders al eeuwen.

Voorafgaand aan het inschepen dienen wij u, conform de gestelde richtlijnen vanuit de overheid en het RIVM, enkele vragen te stellen om in te schatten of uw bezoek mogelijk gezondheidsrisico's oplevert. Heeft u klachten? Blijf dan thuis. U kunt uw boeking omzetten naar een andere datum.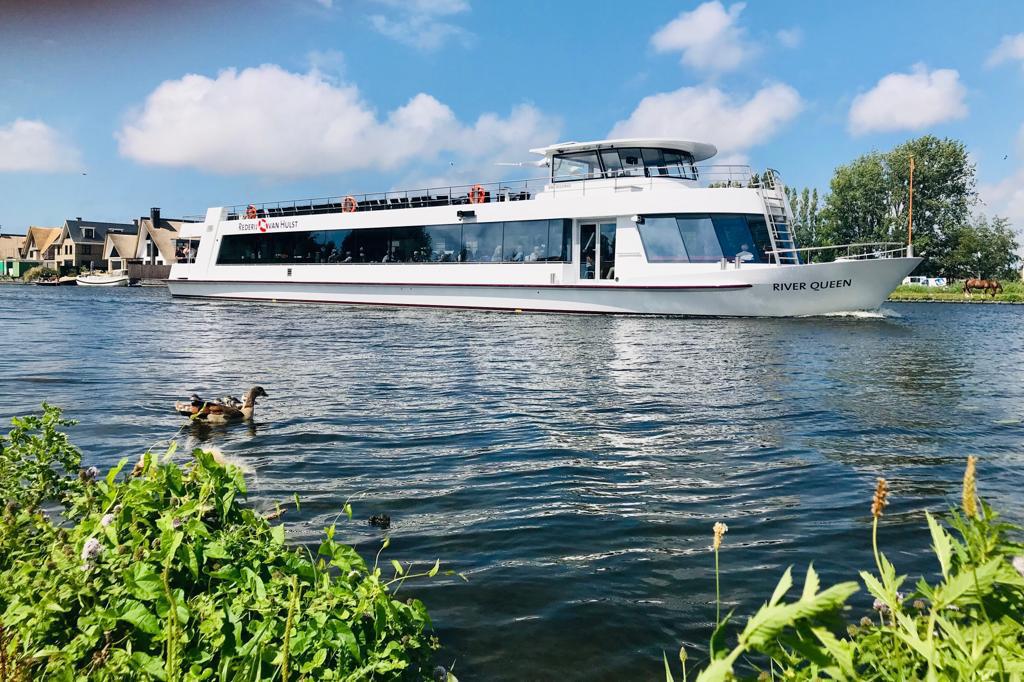 Loading the JavaScript code...
Laden van JavaScript code...
Lade JavaScript-Code...
Chargement du code JavaScript...